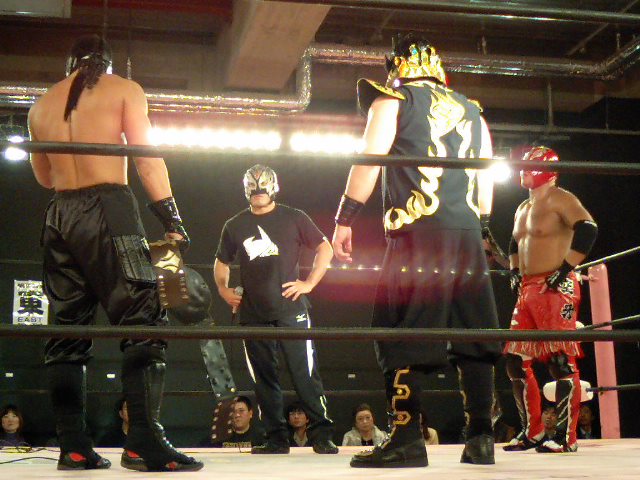 3/17 – Osaka Festival Gate drawing 240 fans
1. Billy Ken Kid beat Dingo in 7:08 with the Koumori Tsuri Otoshi.
2. Flash Moon & Tigers Mask defeated Daisuke Harada & Roberto Tanaka in 15:08 when Tigers used a high-angle backdrop suplex on Tanaka.
3. Ebessan II/Kuishinbo Kamen/Super Delfin beat Ice Penguin/Miracle Man/Takoyakida in 12:31 when Ebessan used the Imamiya Press on Takoyakida.
4.

MWF Jr. Heavyweight Title:

Gran Hamada defeated Condor in 14:52 with a swinging Hama-Chan Cutter to retain his title.
5. Asian Coogar/Hideyoshi/MASAMUNE beat Atsushi Kotoge/Super Dolphin/La Uchida in 15:40 when MASAMUNE used the Kaminari Setsu on Kotoge. Hideyoshi & MASAMUNE continued to have problems with Coogar & BKK (at ringside) during the match and after the match they walked out on their Vendeval teammates but were called back by BKK who demanded that the two teams wrestle each other to work out their problems.